Equal Voices: Molly, Iris & Dora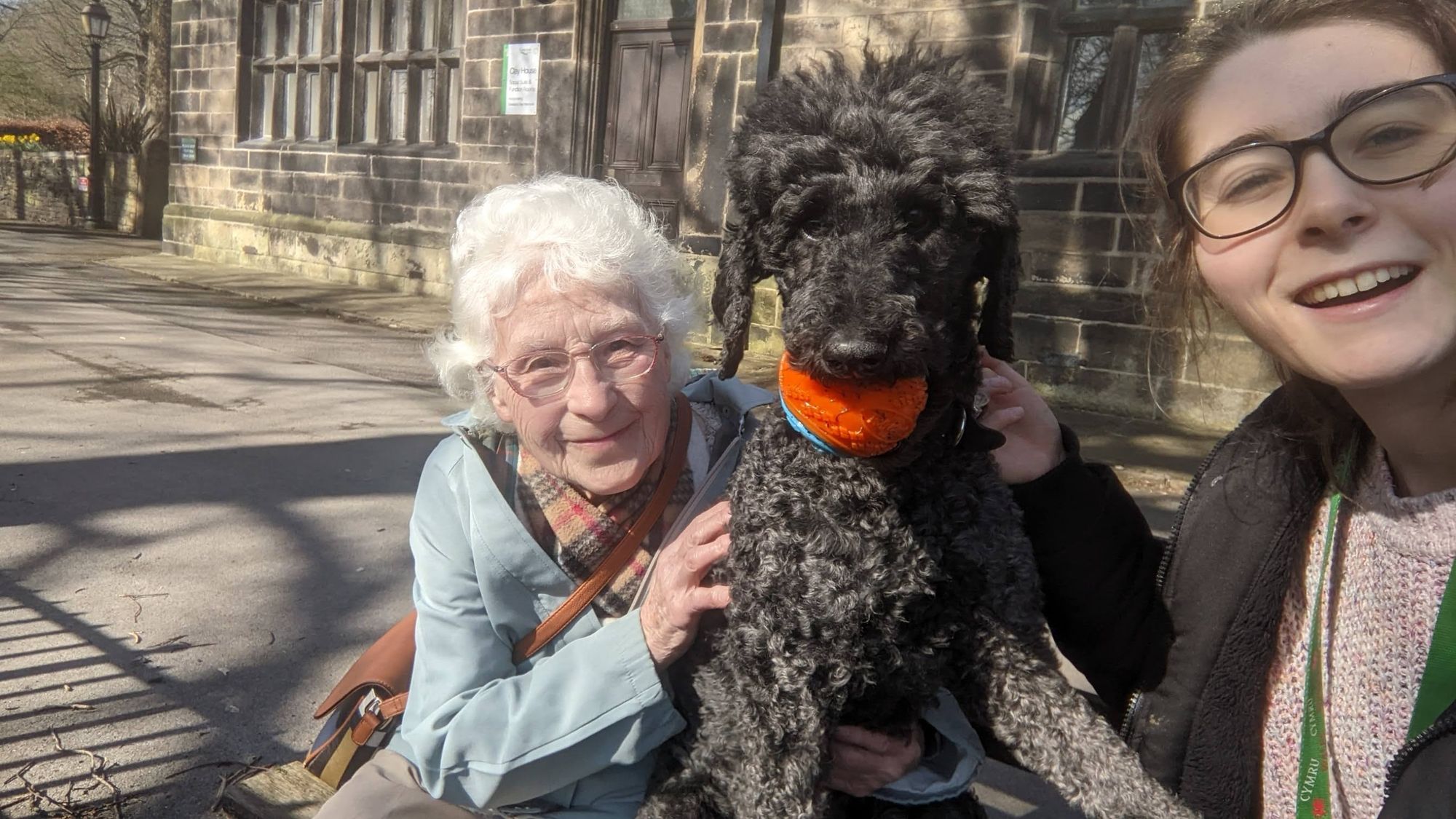 In this blog, the incredible Molly talks about her experiences of giving care and support alongside her poodle Dora and the joy it has brought to both her and those she supports.
Being able to incorporate pets into care and support is something that I think the majority of us will agree to be both a novelty and quality of life-changing. Whether that be in the form of me showing pictures and videos, chatting about and even introducing my pets to the people I support, I have always seen such positive results in doing so. My good friend Iris and I - whom I have been supporting since January 2022, often talk about animals, the pets we have both had and those we would like to have, as well as religiously watching David Attenborough together. The topic never fails to make us smile.
Whilst visiting Iris I often brought along my wonderful dog Dora: a 6-year-old standard poodle with a slightly over-the-top obsession with balls, and the softest, curliest fluff ever. Dora would make herself comfortable in Iris' home by settling down by her feet in the front room, asking for the ball to be thrown and coming along on walks around parks and into Elland with us. The three of us have even visited a garden centre together! Dora loves the extra attention from Iris and is very careful to be gentle when asking for fusses - of which Iris is always very happy to oblige.
When she's just with me, Dora can be a bit of a hooligan, but when it comes to other people, she amazes me every day by seeming to know who needs an extra-gentle approach and when it's the right time to settle down and be admired. As Iris is a lifelong self-professed animal lover, every single visit with Dora has ended in cuddles and kisses, which I find very humbling to witness.
Toward the end of last year, Iris decided that she did not feel as safe and comfortable living in her own home by herself anymore, and with lots of support from her family, friends and team of care and support workers, Iris transitioned into living in a residential home. Thankfully both me and Michelle (another member of Iris' Team here at Equal Care) were able to continue supporting Iris by visiting her and going out to places together.
More recently, I have been allowed to bring Dora with me to the residential home, which not only brightens up Iris' eyes but also brings lots of smiles and 'aww's' from the other residents. Dora will come along to cafes with us and sneak in as many cuddles under the table as she can! Iris especially finds Dora's tail amusing as it "curls up for days".
I am very grateful to have been given the opportunity to bring Dora to work with me - just one more perk of supporting through Equal Care Co-op! To all of the other people Dora has helped me support: Jools, Betty, Roy (my Grandad and her very favourite person to visit!), Dorothy, Laurence and many, many more people... we both wish you the best and send our love to you wherever you may be.
Over and out,

Molly and Dora